Shout out to my boy Hugo Chavez, who as usual, breaks all the rules of traditional government decorum in the interest of advancing his personal priorities, ie his continued place in power. And not for the first time, it involves creative budgeting. If "Hugs" is looking smug to you in the photo below, it's because he has every reason to be.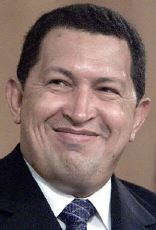 This time, Chavez has budgeted nearly 40% of the Venezuelan government resources to "Supreme Happiness." Not bad - he's done it before, but this time the percentage has gone up. He's accused of building the budget on the basis of unrealistic projections (something many American politicians seem to know something about too). But a whopping 40% of the budget is essentially undefined. What do you spend money on that leads to supreme happiness?

This spending includes some of President Chávez's signature social programs like the Bolivarian Missions, which provide Venezuelans with everything from free housing and medical services to government-subsidized food stores. After his victory in the early October presidential election, Chávez announced such programs would be increased in his upcoming term.

Overshadowing the budget's central pursuit of happiness, however, is the fact that the budget itself remains opaque.

"Since 2006, the government has stopped announcing the budget like it had done historically, which showed the total cost of programs in [the] public sector," says Mr. Ibarra. "[N]ow we see much of [the] budget in parallel funds, like Fonden."
That's really brilliant. Chavez is now free - imagine how terribly cowed and beaten down the Venezuelan Legislature must be to have approved such a budget - to spend as he likes. That is, his government budget and his personal slush fund are the same thing. He can spend it on putting a chicken in every pot. Or a Volkswagen in every garage. Or on whores and poker. Hell, he can just stuff $100 bills in the cleavages of supporters who - mardi gras style - show him a little support.
That makes even a guy like me supremely happy.