Does anyone here know how to get around a two-term presidential term limit? Anyone, anyone?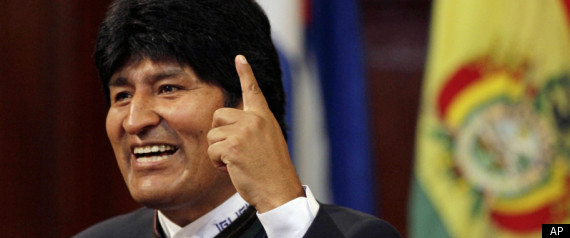 Yes, you in the corner. Evo, isn't it? Looks like you have an idea.
Ah yes, Evo, my fiesty buddy from Bolivia. I figured you'd have something to say. Was watching you pull a classic the other day - well played, sir, well played.
For the rest of you, Evo is cleared for a third turn in Bolivia's presidential bully pit, thanks to a classic bit of sleight of hand. There is a limit of two terms, you say? Well that was decided in the midst of his second term, meaning the first one didn't count and the second one is really the first. That means you owe him - owe him - a third, I mean second chance in the driver's seat.
Seem obvious? Well, it's getting that way. Others have used this move before him, including Morales' mentor, Hugo Chavez. And Senegal's Abdoulaye Wade argued the same back in 2011. So this is getting to be a well-worn tactic whose ramifications are obvious. Here is the tip:
"Do what you want the first term. But in your second term, force the issue to a vote. That guarantees the decision is made in your second term, which becomes your first, giving you a third, I mean a second." Are you confused? So will be your constitutional court, who will be easily bullied into power. Then, obviously, spend your third term - I mean your second - doing what you like again.
I love it when a plan comes ... what's that line again? Someone pass me a cigar. I love this stuff. Dick out.