In chapter 13 of the Dictator's Handbook ("Endgame") we go on at length about carefully choosing how you'd like your fall from the throne to take place. There are a lot of options out there, from the knifing of Colonel Khadaffi to the firing squad that took down the Ceaucescus, and more. But there's a worse option: getting hauled into court.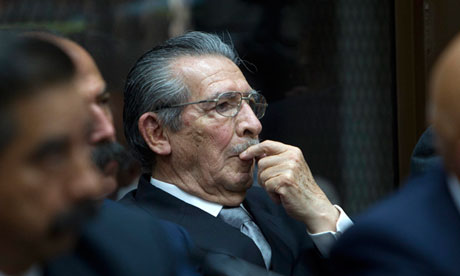 But that's exactly former Guatemalan strongman José Ifraín Ríos Montt is headed, where he can expect some uncomfortable questions about his past actions.
The Guardian UK covers the story:






A former US-backed dictator who presided over one of the bloodiest periods of Guatemala's civil war will stand trial on charges he ordered the murder, torture and displacement of thousands of Mayan Indians, a judge has ruled.


Human rights advocates have said the prosecution of José Efraín Ríos Montt would be an important symbolic victory for the victims of one of the most horrific of the conflicts that devastated Central America during the last decades of the cold war.


He is the first former president to be charged with genocide by a Latin American court.

In fact, at least 1771 individuals are suspected of meeting their untimely end at the hands of Guatemala military and para-military forces under Ríos Montt's command. The atrocities of his administration are well-cataloged and widely understood. But a culture of impunity that has for decades prevented any meaningful justice from rectifying has stagnated the political culture. This is no way to run a nation!


There are ramifications for other governments as well. What would Syria's Bashar al Assad look like testifying before the courts for some of the barbarism inflicted on the Syrian people since 2011? Egypt's Mubarak did his time in court, looking less like a descendant of divine leadership and more like a decrepit, old man.


Chapter 13 makes it pretty clear: the only thing that will outlive your administration is your reputation. And getting your wrinkled ass hauled into court to ask pointed questions is a sure way to sink it. Maybe getting knifed like Khadaffi is the better option after all, eh Dicks?